This is extremely unorganized for now. It is a vauge concept. I will be posting a much more clear one later.
Our hero has conquered the 3 beasts of the Earth, raided the depths of the Dungeon, mangled the terror of The Underworld with his might, awakenening the powers of Light and Darkness, which he used so valiantly to destroy the reborn beasts and gain complete dominance over his world.
But now, we face a new chapter.. Pandas! (Just kidding)
So in my opinion, this planet is pretty worn out. I haven't myself tried the Reborn mod, not sure what that adds.
The only thing left I can thing of is a Sea Boss.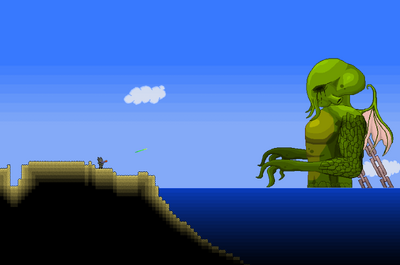 So yeah, remember Cthulu? I sure do. He was speculated as a 1.1 Boss, but that never played out. He just remains a sketch of a long gone artist.
Cthulu will be the final boss of the planet, similar to Wall of Flesh being the final boss of normal mode terraria.
The summoning of Cthulu will be very simple. Simply craft a Soul of Valiance (20 Soul of Might, Soul of Fright and Soul of Sight) and throw it into the ocean. This will summon Cthulu!
To be updated
Once Cthulu is defeated (surely not an easy fight) he will say "THANK YOU FROM FREEING MY FROM MY ETERNAL IMPRISONMENT, MORTAL!" and sink into the deeps of the ocean (not dying) , leaving behind as a drop his Glowing Scale of Cthulu and various random drops (?)
Glowing Scale of Cthulu? Sounds eh. What does it do?
The Glowing Scale will allow you to transport to Cthulu's original birthplanet (unnamed as of yet) it will be just like spawning in a new world, loading screen and seperate world file. You can go back and forth using the scale but takes a bit to cast.
Interesting. What is it like?
It is much different from our planet. First of all it is eternally night, giving off a darker black look than nights in our world do. Torches have small effect here.No npcs can be here. You are alone!
Oh yes, there are monsters. Blood of Cthulu, which is like a Slimer accept it is pure black. (To be continued from here later)
Update later. Google him.
Final Boss - Nightmare Cthulu (with voice acting!)
YOU COME TO MY WORLD, DESTROY MY CREATIONS, AND YOU NOW WISH TO CHALLENGE ME?!? I BASK IN FULL AND PURE POWER, AND NOTHING STANDS IN MY WAY!!
(here's a poopy little thing I was thinking of)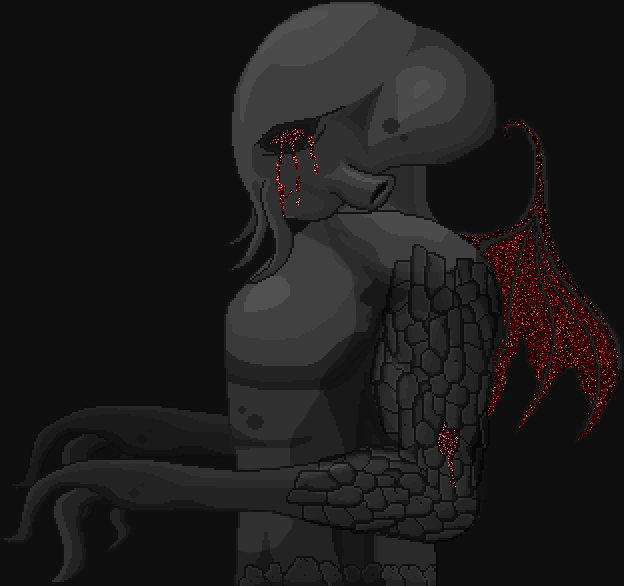 So, when I get to making the tactics of this and stuff this guy will be super hard. It will require help and may be impossible to solo. Just imagine you in copper armor fighting skeletron prime. That's how hard this fight will be like.
So, what's he drop? Gotta have something!
Well, it's gotta be something worth while. Of course he will drop Darkened Scales, which can be crafted into the highest tier armor sets, with mage, ranged and melee hat variants. The set bonus grants you wings already attached to your character (not an accessory) and a chance to give your enemy a Corrupted Blood debuff which could poison them over time... just brainstorming.
Also, he could grant access to the Ruins R'lyeth as a dungeon that has remains of Cthulus blood and corrupt scales and tentacles etc. for nice top tier loot