Hello my friends we are having a contest for the wiki!
What You Can WIN!
1 of 9 torch T-shirts, copy of the game Terraria, or Appear on an episode of youtube.com/hero letsplay.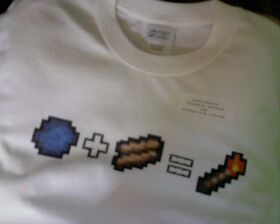 Date/Prize
July 5th - 13th: T-Shirt
winner http://terraria.wikia.com/wiki/User:Salrith
July 14th - 20th: T-Shirt
COULD BE YOU!
July 21st - 27th: Guest on LetsPlay youtube.com/Hero
July 28th - August 4th: T-Shirt
This isn't the only design, i'ts just the first set that were printed.
How you can win!
1 person a week will win. We will be giving away the shirt to the most helpful editor on the wiki who is NOT an admin. So this contest is open to everyone on youtube and the wiki, and all you have to do is edit! You must be in the USA the T-shirts Sorry, I can't ship internationally but you can still win the game or be on an episode of the lets play with me! Also i would like you to be subscribed to my youtube channel because these shirts with shipping are costing me over $120.00
What kind of edits are we looking for?
We are not just looking for the person with the highest points earned. What we want is people who make great edits and really help the wiki. What I would like out of the articles is for them to be clear and concise, and not too many pictures that clutter the articles. When adding a picture for an item or monster, please check to make sure we don't already have a picture of that monster or item in the Database. If we don't have a picture, please add that one. Don't plagiarize from other people, as we are looking for real contributions to the wiki.
We also need help on updating the monsters with the standard monster layout which can be found here. This is the general look we are going for on all the monster pages.
The real reason we are doing this contest!
We are looking for more people to help fight vandals as well as people to give the rollback tool so they can easily fix edits on the wiki. Out of this contest we hope to find a lot of great people and give away a lot of cool things.
GOOD LUCK!
Do your best! Make sure your information is valid and accurate. Also, please try not to repeat information already stated. Keep articles organized!