Terraria Adventures is an elaborately plotted web comic by Cody Shaw, also known as Elagune online. The
Terraria Adventures motion comic is a fully voiced video series created by animating the actual frames of the web comic to bring it to life. It is produced by Ian of the YouTube channel Verbal Processing who also voices two of the three main characters and does most of the animating.
The most recent episode can always be found on Verbal Processing on Youtube.
Direct Links to Episodes to Date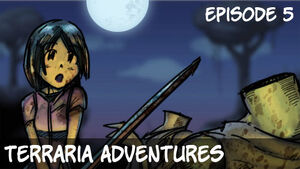 Ad blocker interference detected!
Wikia is a free-to-use site that makes money from advertising. We have a modified experience for viewers using ad blockers

Wikia is not accessible if you've made further modifications. Remove the custom ad blocker rule(s) and the page will load as expected.