My sprites
So, I'm just a normal Terrarian that has pretty much reached end game so makes sprites on request for friends , threads on Terraria Online or for idea's on The Terraria Fan Ideas Wiki , So without further of do, here are my sprites.

So this is the Armageddon, one of my first sprites ever, that I made a bit smoother a while ago. I made this for the Lunar alternate Hallow Idea on Terraria Online, where the first few sprites will be from.

This is the Gatling laser, this one was my second sprite I believe, and it was for the same thread as the Armagedon

Here is the Fission Cannon, this one was for the Lunar Idea thread aswell
This is my Singularity Gun, one of my least favorites, this one was for the Lunar thread aswell
This is the Lunar Drax, acctualy the first sprite that I gave a depth effect, this effect I now use for every sprite that I give depth. This was once again for the Lunar thread

This is the Spear Shot, another sprite for the Lunar Thread, that I personaly really like.

Here is the Masamune, a katana-like sword for the Lunar thread

The Asteroid Magnet above here is a boss summon Item, again for the Lunar thread
So, let's stop this lunar thread and go on to the real deal, this is the Rainbow Quad Chakram, it was for an Idea on the fan ideas wiki made byTrueCobalion

This is the Galeforce Blade, for the fan idea wiki made by SilverHexxitFights.

This is the skyspear made for a thread by 652Graystripe

This is the Water Cannon, made for another thread by SilverHexxitFights.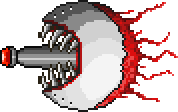 So this is the second phase of "Eye", a boss fan Idea made by the man named Ummm1082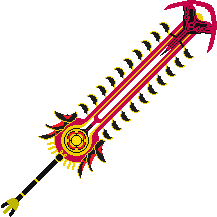 so, this is one of my biggest, but best looking sprites I made. this one is for my good friend Freenight, since he wanted to build this sword and needed a pixelated version to build it off. this is still a WIP. It'll be updated on a later date, so stay tuned for that.
Well, that's it for now. I don't actualy have any sprites planned, so feel free to throw something in the comments, and I might just do it. I hope I've intrested you. I do this best at spriting weapons. Things I'll have a look at are either pictures or good worked out threads on the Terraria fan Ideas wiki.