Hello Terrarians! Welcome to the eleventh issue of The Terrarian Bugle! Thank you for all the support so far, I massively appreciate it. ^_^ Today we're going to blow through the update info as there is not much to report, enjoy some of the normal weekly events, and check out part 2 of some of the best sprites I have ever seen! Thanks for reading, and enjoy! :D
Update Info
PC
I was speaking with Cenx the other night in a Twitch livestream, and I was able to confirm a few things for the Lunar update.
Yes, the Lunar update's boss fight is going to be an invasion/wave event. Cenx also stated that they are working on adding a few unique factors to it, so expect something new and fresh!
The Portal Gun is confirmed. (Permission from Valve was obtained.)
A Team Fortress 2 vanity set may be added. (As far as I know, the Devs have not gotten the permission to use it yet.)
Your opinion on Cenx's statement concerning the Lunar boss fight
Your opinion on a Portal Gun being added
Your opinion on a TF 2 vanity set being added
Console
We currently have no word from 505 games concerning the next console update. It will most likely take a long time due to them working on Hardmode, which is coming to Mobile players soon.
Mobile
Hardmode is coming soon, Mobile Terrarians! I hope you're pumped! Other than that, there is not much else to report.
Weekly Events
Poll of the week
This week we'll be hosting a classic poll. What is your favorite NPC?
Best Creation/Pixel art of the Week
This week we have one amazing submission from Hunited! It is an amazing Corruption-themed home built with Corruption furniture and materials! Be sure to compliment him next time you see him!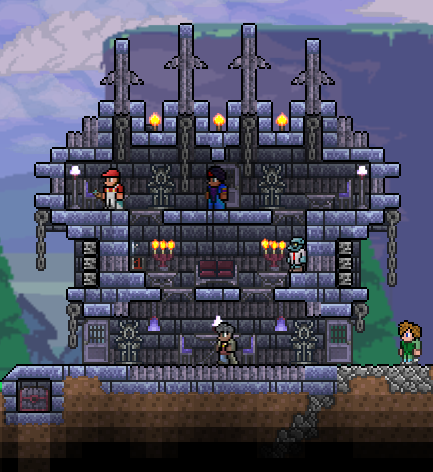 Exclusive interview with a member of this Wiki
TerrariamcSwaggins: Hi Buggsy, would you like to be interviewed for the bugle? :)
Buggsy101: Yeah, sure!
TerrariamcSwaggins: Awesome! First question, what is your favorite boss and why?
Buggsy101: The Twins because when I first got Terraria and defeated all of the Pre-Hardmode I decided to verse the Twins because I thought they would be like the Eye of Cthulhu. But, I actually died heaps.
TerrariamcSwaggins: Hah, those Twins, they always give me trouble. Next question, what is your favorite biome and why?
Buggsy101: Would the Space Biome count?
TerrariamcSwaggins: Yep.
Buggsy101: I would choose the Space Biome because I love the Islands and the low gravity. It is always what I try to find when I make a new world and character. I also love all the loot. :)
TerrariamcSwaggins: I agree, I've always loved the calmness of the Space biome. Next question, what monster annoys you the most? (Not counting the bosses.)
Buggsy101: Definitely the Corruptors because they destroy my worlds with Corruption.
TerrariamcSwaggins: Gah, yes, those things were sooo annoying before the update. Final question, what gear/weapons/armor do you prefer and why?
Buggsy101: Although I do love the Summoner Class, I would have to choose the Warrior class with the Flame Wings, Warrior Emblem, Avenger Emblem, Destroyer Emblem and the Frostspark Boots. My weapons that I mainly use are the Terra Blade and Horseman's Blade.
TerrariamcSwaggins: Great choice of weapons! I believe that is it, thanks for the interview, I appreciate it!
Buggsy101: Thanks Swaggins.
Weekly Special
This week is part 2 of perhaps some of the greatest sprites I've ever seen, so let's get right to it! This is part 2 of a multi-part series of Zoomo's amazing sprites.
Credit for the sprites goes to Zoomo. His profile page can be viewed here:
http://www.terrariaonline.com/members/zoomo.71392/
Enjoy!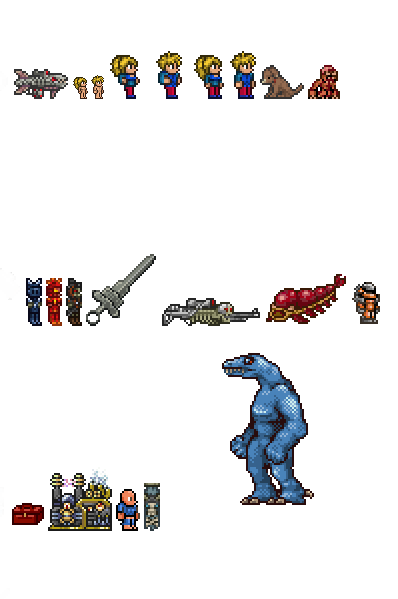 Announcements and Shoutouts
Announcements
I would like to announce the seventeenth battle of Super Smash Terraria! You can find it and participate here:
http://terraria.wikia.com/wiki/User_blog:SilverHexxitFights/Super_Smash_Terraria_-_Battle_19
The eighteenth Poll for the next Super Smash Terraria is now open. You can find that here:
http://terraria.wikia.com/wiki/User_blog:SilverHexxitFights/Super_Smash_Terraria_-_Poll_20
Shoutouts
SilverHexxitFights has started a new series, be sure to check that out!
http://terraria.wikia.com/wiki/User_blog:SilverHexxitFights/Terraria_Story_2_-_Part_1
I would also like to give a shoutout to SlayerOfTheBad's sprite thread, which can be found here:
http://terraria.wikia.com/wiki/User_blog:SlayerOfTheBad/Sprite_Wall
Outro
Hey guys, I hope you enjoyed the eleventh issue of The Terrarian Bugle. Remember, if you have any ideas whatsoever just let me know at my talkpage and I'll see if I can add it in. If you want your picture in next week's Creation/Pixel art section just hit me up at my talkpage or talk to me in the live chat.
All credit for the sprites goes to Zoomo.
Thanks for reading, guys! Let me know what you think in the comments below.
Have a nice weekend and I'll see you next week. :D
Credits
-Thanks to Oscuritaforze for helping with typos and grammatical errors.