Hello Terrarians! Welcome to the twenty-second issue of The Terrarian Bugle! The support has been really great for this newspaper, thank you all! Anyways, today we have some exciting update info to go through, then we'll go through our normal weekly events, and finally, we're going to finish up our ~month and a half long series; a complete showcasing of all of Hunited's sprites! Thanks for reading, and enjoy! :D
Update Info
PC
There is currently no new spoilers to report on.
Console
The release date for the Next Gen console version of Terraria has been confirmed!
Terraria for Playstation 4 will launch on Tuesday, November 11th!
Terraria for Xbox One will launch on Friday, November 14th!
505 Games states:
"We apologize for the few-day gap between the two launches, but we didn't want to hold up either side from getting access to Terraria as quickly as possible. Terraria on PS4/Xbox One will be aligned to the current versions available on PS3/Xbox 360.
Additionally, we have added new cross play functionality to all versions of Terrarian on the Playstation platform. That means that players on the PS4 version can interact with players on the PS3 and Playstation Vita versions - choosing to either battle against or team up with the wider PSN community. We are also working very hard on cross-save compatibility for Xbox One - Xbox 360, but this will not be ready in time for the launch next week. We will keep you up-to-date on any progress made there.
To further get everyone hyped up, here are some screens followed with a few details that we suspect the community will be interested in.
Details on the Next Generation Console Launch
The Xbox One and PS4 editions will utilize the same "version" as the current Xbox 360 and PS3 editions. This is commonly referred to as the "1.2" update from earlier this year.
Pricing will differ by country and currency. To get the most accurate price, you will need to check with your local retailer. There is no discount for current owners of the PS3/360 version - however, for a limited time post-launch, we are bundling the PS VITA version in with the PS4 version for anyone purchasing the PS4 version!
New console content is planned for (very!) early next year, and more regularly thereafter. We appreciate and understand the frustrations the community have had with regards to the latency between PC and console updates, so whilst there will always be challenges in bringing that content to the console platforms we'll be breaking updates down into more 'bite-sized' chunks in the future so we can deliver that more quickly from now on!
That's it for now, though we will happy answer any questions that you have - assuming we have and can supply an answer! We hope everyone thoroughly enjoys the new editions starting next week, and that you are all anticipating what is to come with the future of Terraria as eagerly as we are."
Mobile
The Thanksgiving update for Mobile Terraria was just released a few days ago!
A few of the new things it includes is:
Here's a screenshot that 505 Games released of the new boss:
Weekly Events
Poll of the week
This week's poll is about which pet you like most in the game, enjoy!
Creation/Pixel art of the Week
This week we have one submission! It is a massive golden castle, protected by two moats filled with water! It was created by Squazzil, so be sure to compliment her next time you see her!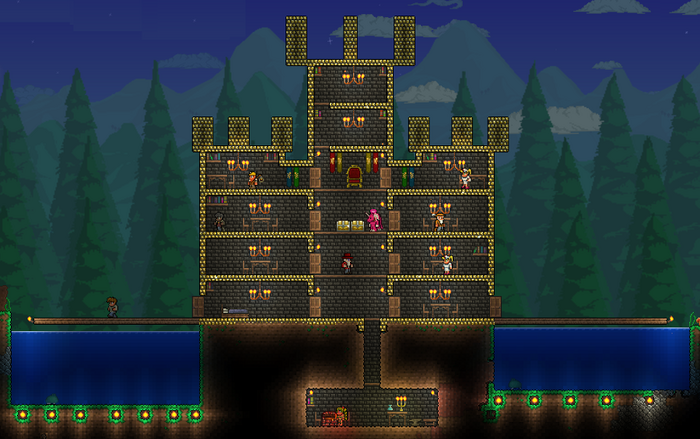 Exclusive interview with a member of this Wiki
TerrariamcSwaggins: Hey, do you have some time to do an interview for the wiki's official newspaper, The Terrarian Bugle?
Thiagovscoelho: I guess so!
TerrariamcSwaggins: Awesome! What is your favorite boss and why?
Thiagovscoelho: I haven't gotten very much into Hard Mode, so The Destroyer is the only Hard Mode boss I've beaten (unless you're counting Wyverns (you're not)). All the bosses are pretty cool! The Wall of Flesh probably has the coolest design of them, with the setting and surrounding preamble. But it wasn't much of a challenge. The Destroyer might have been more of a challenge if I hadn't just shot down from a skybridge. But it did take the whole night to beat.
TerrariamcSwaggins: Yeah, both the Wall of Flesh and the Destroyer are fairly easy to defeat, with proper gear, but they're certainly fun to fight! Next question, what is your favorite biome and why?
Thiagovscoelho: I liked the Crimson and the Jungle very much until they added Herplings and Giant Tortoises, now I stay away from them most of the time. I still like the Snow biome, though! Ice caves are good exploration. (By "until they added" I don't mean updates, I haven't been around that long — I mean activating Hard Mode.)
TerrariamcSwaggins: Indeed, ice caves are quite fun to explore! Next question, what is your preferred class in Terraria?
Thiagovscoelho: My reaction to first hearing about classes was "what, is the game that RPG-y?" — I wasn't aware of that stuff very much. I rarely remember to grab a summoning item and don't fight with spells very often, though I do carry a few. I mostly use swords and guns — swords are the most fun, but I use guns on the more annoying enemies and also on bosses.
TerrariamcSwaggins: So you're kinda like a jack of all trades?
Thiagovscoelho: Like I said, I mostly use guns and swords, and a bit of magic. Sometimes I carry some weapons not because they'll be useful, but because they're fun to use! Flails are cool, but not often practical — I still waste my inv-space on the Sunfury, and have used it on rare occasions.
TerrariamcSwaggins: Ahhh, I see. Final question, what is your favorite weapon in the game, currently?
Thiagovscoelho: The coolest I own is probably the Megashark, it shoots a lot of bullets and that's awesome!
TerrariamcSwaggins: I agree, the Megashark is easily my favorite weapon in the game. Anyways, thank you for your time, I appreciate it!
Thiagovscoelho: Well thank you too!
Weekly Special
This is the final part of Hunited's sprites, we'll probably feature 'em again in the future, but for now, it's time to say goodbye! Thanks for all the support on this series! Let's get to it! Welcome to part six, the final part.
Credit for the sprites goes to Hunited.
This week is the complete miscellaneous theme!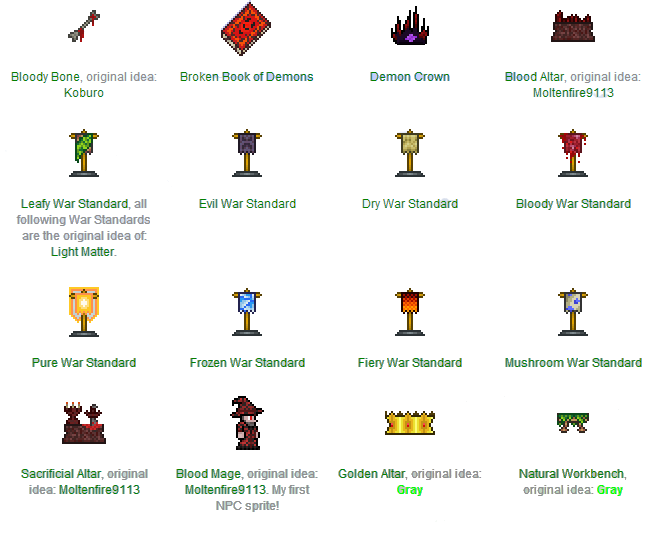 Your opinion on these sprites?
Announcements and Shoutouts
There are no announcements or shoutouts for this week.
Outro
Hey guys, I hope you enjoyed the twenty-second issue of The Terrarian Bugle. Remember, if you have any ideas whatsoever just let me know at my talk page and I'll see if I can add it in. If you want your creation in next week's Creation/Pixel art section just hit me up at my talk page or talk to me in the live chat.
All credit for the sprites goes to Hunited.
Thanks for reading, guys! Let me know what you think in the comments below.
Have a nice weekend and I'll see you next week. :D
Credits