Hello Terrarians! Welcome to the twenty-eighth issue of The Terrarian Bugle! All the support is really encouraging; thank you all! Not too much update info today, so we'll be blowing through that, then we'll check out our normal weekly events, and then we'll have a look at another awesome idea from the Terraria Fan Ideas Wiki. Finally, we'll have a look at the next episode in Silver's story! Enjoy!
Update Info
PC
No word from any of the developers regarding any spoilers/update info for 1.3.
Weekly Events
Poll of the week
This poll will be based on what trophy you like most, enjoy!
What Trophy do you like most?
Creation/Pixel art of the Week
This week we have one submission! It is a Christmas tree surrounded by gifts (weapons) constructed upon a fine layer of snow! It was created by TrueCobalion, so be sure to give him a pat on the back next time you see him!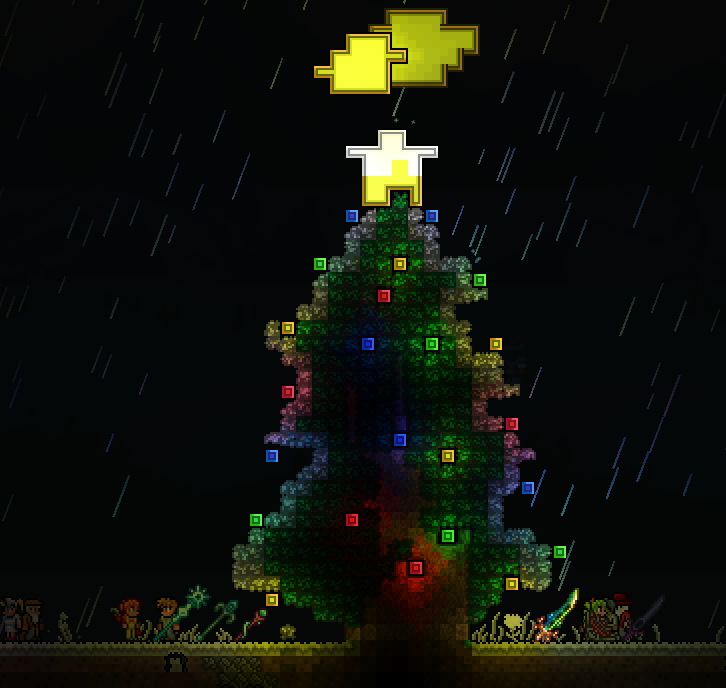 Exclusive interview with a member of this Wiki
Sadly, I was unable to contact the person I had in mind for this week's interview. I will hopefully be able to get in touch with them before next week.
Thanks for understanding!
Weekly Special
The Terraria Fan Ideas wiki presents......... the Midas!
Credit for the sprite goes to Hunited and credit for the idea goes to 652Graystripe.
Enjoy!
Midas


Midas
is a miniboss that spawns when a Golden Altar is broken. He is very fast and can jump very high. In addition, when he touches the player, they will be get the 'Goldified' and 'Midas' debuffs for 5 seconds and 2 minutes, respectively. Because of this, Midas is a dangerous foe, as he can immobilize and quickly kill the player.
Stats

Drops

Only one of the following will drop:
Coin Rain
The Coin Rain is a spell dropped by Midas. It is a fairly strong spell for its point in the game, but costs a lot of mana to fire. It acts similarly to the Crystal Storm, but the coins fired do not ricochet.
Stats

21 magic damage
Very Fast speed
Extremely Weak knockback
Costs 17 mana
Coin Rain inflicts the 'Midas' debuff on anything it hits.
Golden Altar


The
Golden Altar
is a rarely generated altar that can be found in the Stone layer once the player has 40  

in their inventory. There are 4 per small world, 6 per medium world, and 8 per large world. They can be broken with a hammer with 55% hammer power or higher. Explosives have no effect on them. When broken, the Midas miniboss will spawn and the altar will drop 10-20 Gold Bars and 30-40 Gold Ore.
Goldified

The
Goldified
debuff is inflicted by Midas. It turns the player into an immobile gold statue for its duration, making them completely useless.
Trivia

This is a reference to Nitrome's game, Double Edged.
Story of the Week
This week's story was created by SilverHexxitFights! Enjoy!
Here is this week's story!
Night's Edge: Episode 5
A vast cavern opened up around the adventurer, who hung from the ceiling with his grappling hook. Demons shrieked, their cries bouncing off black walls.
Obsidian towers rose in the distance, silhouetted against the red haze like fingers sticking from the grave. He had reached the Underworld - the end of the world.
Silently, he jumped to the floor, put his hand in his back pocket and pulled it out. Kneeling on the edge of the lava pit, he tossed it in lightly with one hand, unaware of the bat until it struck him hard from behind. His swords tumbled from his hands - the Blade of Grass vanishing into the orange stone, the Muramasa falling and sizzling on the hot ground. And the adventurer flew into a pit of lava.
What is your rating of this?
Announcements and Shoutouts
Announcements
The open bureaucrat nomination for Oscuritaforze will be closing very soon, so be sure to have your say before it closes!
The community is currently voting on which image to use for the wiki's new background! Head over here to vote!
Shoutouts
Outro
Hey guys, I hope you enjoyed the twenty-eight issue of The Terrarian Bugle. Remember, if you have any ideas whatsoever just let me know at my talk page and I'll see if I can add it in. If you want your creation in next week's Creation/Pixel art section just hit me up at my talk page or talk to me in the live chat.
Thanks for reading, guys! Let me know what you think in the comments below.
Have a nice weekend and I'll see you next week. :D
Bugle Updates
Credits
-Credit to Squazzil for the great banner!
-Thanks to Squazzil for helping with typos and grammatical errors.
-Credit for the story goes to SilverHexxitFights!