Hello Terrarians! Welcome to the thirty-seventh issue of The Terrarian Bugle! We have some very exciting PC spoilers to check out today, along with a general release date for 1.3, so I hope you're hyped! After that, we'll check out our normal weekly events, then continue our latest series: a complete showcasing of Brutallama's sprites! Upon finishing the showcase, we'll wrap up our current story series, which is written by Qui Devorat!
News & Spoilers
Brief synopsis of the following articles:
1.3 spoiler image.
Terraria: Otherworld spoiler images.
Re-Logic at GDC summary.
1.3 release date announcement.
Spoilers
PC
Loki has just released a spoiler of what seems to be the silhouettes of some of the monsters from the highly anticipated Lunar Event!
(Note: You will definitely need to click on the image to navigate to the full sized, HD version of it.)
Terraria: Otherworld
In addition to the exciting 1.3 spoiler, we also have a couple (vague) Terraria: Otherworld spoilers! These pictures were taken during the GDC Expo (more regarding this below) with a normal camera, which is why they're a little blurry. Be sure to click on them to view their full size.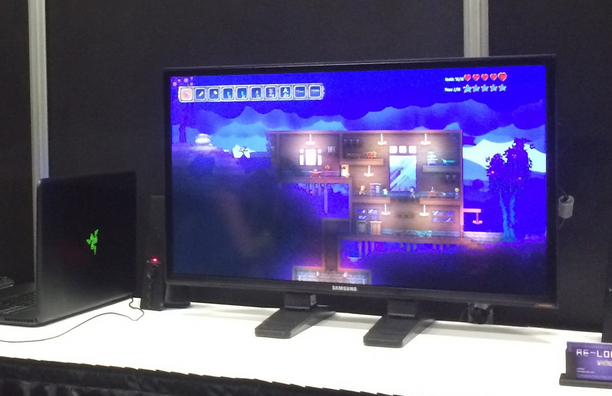 News
Re-Logic at the GDC Expo - March 7th
We won't be going into this topic too much, so if you want to check out the full thing, please head over here to view and stay up to date on the blog. If you're wondering what exactly GDC is, be sure to visit their website for more information!
Loki states:
"Hello there everyone!
As we mentioned in our announcement for Terraria: Otherworld, members of the Re-Logic and Engine Software teams will be in attendance at this week's Game Developers Conference. We will be spending the bulk of our time camped out in our home away from home (Booth #2230) showcasing Terraria: Otherworld and answering questions from the media and anyone else that stops by. Hopefully, we will be able to squeeze in some "fun" as well. ;)
That said, we got to thinking that vicariously sharing our experiences in a "stream of consciousness" style blog through the week might be fun and allow our larger community a glimpse into what goes on this week.
Whenever we are able (and remember), we will share happenings from the trip here. That could be random insanity, news, spoilers, or really anything. We have no "plan" for this blog thread other than to share the experience with all of you."
With that said, here are a few images of Re-Logic's adventures at GDC:
(Note: Be sure to click on the images to view them in their full, HD glory!)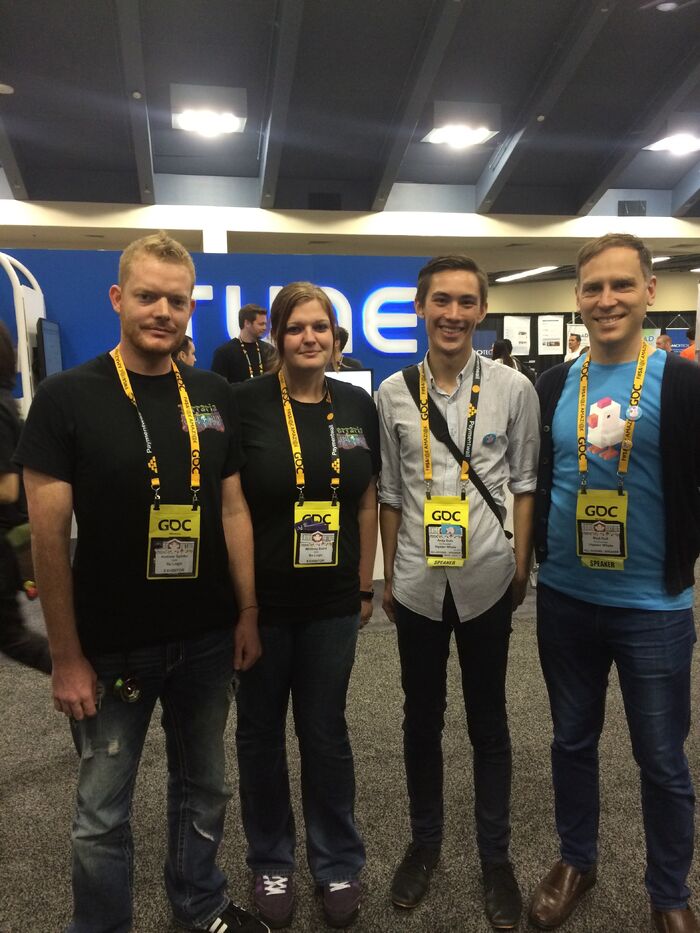 Red, Cenx, and the guys from Hipster Whale (of Crossy Road fame).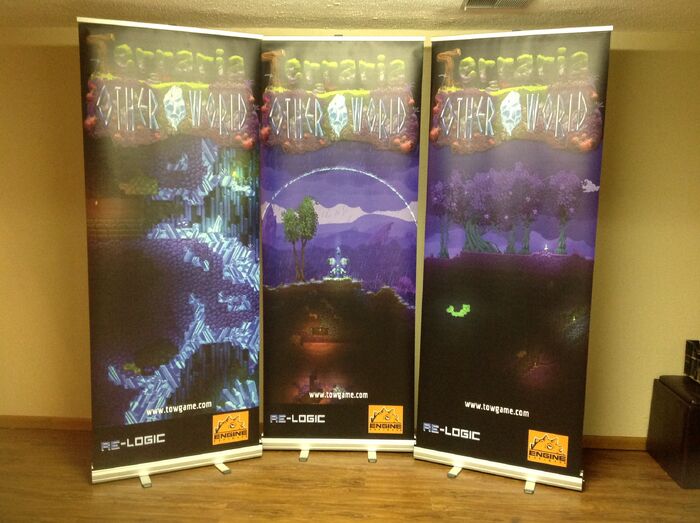 Some of the cool banners used at their booth.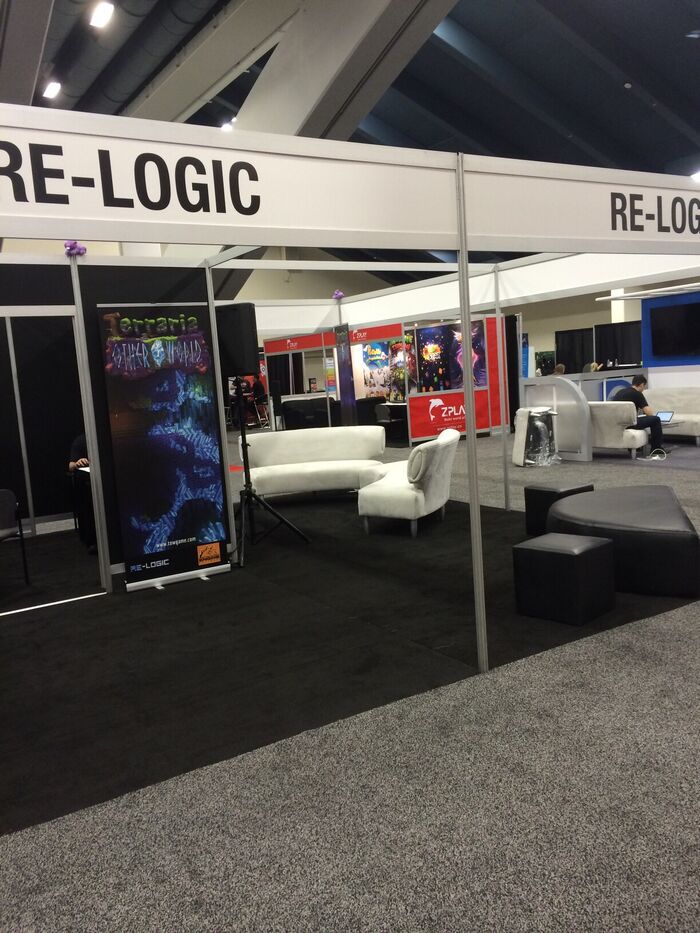 The Re-Logic booth on the day before the Expo.
1.3 release date
In addition to the amazing spoiler above, the dev team has also revealed a general release date for the 1.3 update!
They state:
"Our goal is to have Terraria 1.3 ready for release in June 2015​"
Thoughts on the release date?
Weekly Events
Poll of the week
This week's poll is based on which special Dungeon Gold Chest item you like most, enjoy!
Creation/Pixel art of the Week
This week we have one submission! It is Squazzil's special loot storage structure! Make sure you shoot a compliment her way next time you see her!!
(Note: Per usual, be sure to click on the image to view the full size of it.)
Weekly Special
For this week, we'll be continuing our ongoing series: a complete showcasing of all of Brutallama's sprites! Welcome to the seventh part. :)
All credit for the sprites go to Brutallama.
This week will be part two of the equipment set theme!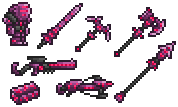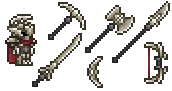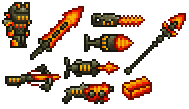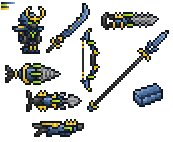 Your opinion on these sprites?
Story of the Week
This week's story was created by Qui Devorat! This will be the final part of this series, so enjoy!
Here is this week's story!
Origins: Epilogue
As I slid my backpack onto the trader's desk, I ordered him to fill it to the brim with a minishark, a set of gun parts and shark fins. I knew that crafting a Megashark would be a rather hazardous venture. If they saw me with what is practically a handheld auto-cannon that only hardmoders have been able to obtain, they would get suspicious, jealous...
Malicious.
And malicious intentions never end well
Especially for those targeted by it
But these were desperate times,
So time for desperate measures.
A man interrupts my train of thought, inquiring about the weapons I was buying. "By the gods, are you going to war? By yourself!?"
I turned my head to him and murmured to him in reply "Yes. You could call it that."
He could call it that indeed.
TO BE CONTINUED.
What do you rate this story as a whole?
Announcements and Shoutouts
Announcements
Shoutouts
Looking for an interesting poll to participate in? Check this out!
Outro
Hey guys, I hope you enjoyed the thirty-seventh issue of The Terrarian Bugle. Remember, if you have any ideas whatsoever just let me know at my talk page and I'll see if I can add it in. If you want your creation in next week's Creation/Pixel art section just hit me up at my talk page or talk to me in the live chat.
Thanks for reading, guys! Let me know what you think in the comments below.
Have a nice weekend and I'll see you next week. :D
Bugle Updates
Credits
-Credit to Squazzil for the great banner!
-Thanks to Squazzil for helping with typos and grammatical errors.
-Credit for the story goes to Qui Devorat!