Hello Terrarians! Welcome to the thirty-ninth issue of The Terrarian Bugle! We have a couple PC spoilers to check out today, so I hope you enjoy that! After that, we'll conduct our normal weekly events, then finish up our latest series: a complete showcasing of Brutallama's sprites, and finally, we'll start the prelude to a new story by one of the wiki's best writers, SilverHexxitFights! Enjoy!
News & Spoilers
Brief synopsis of the following articles:
Spoilers
PC
Cenx has just recently posted a couple of interesting 1.3 spoilers! Have a look and be sure to leave your thoughts regarding it in the comments section below!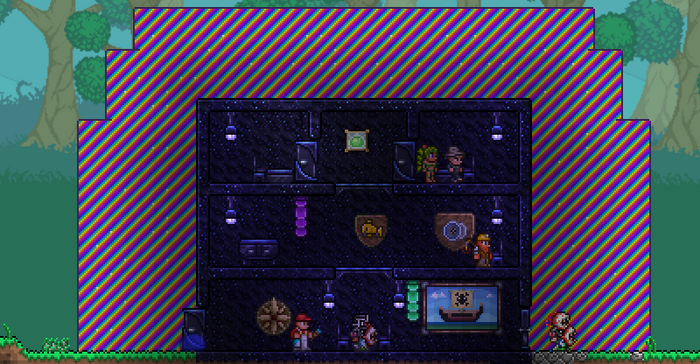 Weekly Events
Poll of the week
This week's poll is based on a biome-related question, enjoy!
If your world *had* to be entirely taken over by either the Crimson or the Corruption, which would you choose?
Creation/Pixel art of the Week
This week we have one submission! It is Rexm12345's small base that creatively utilizes living fire blocks to highlight the bone text on top of the base! Be sure to shoot him some kind words regarding it next time you see him.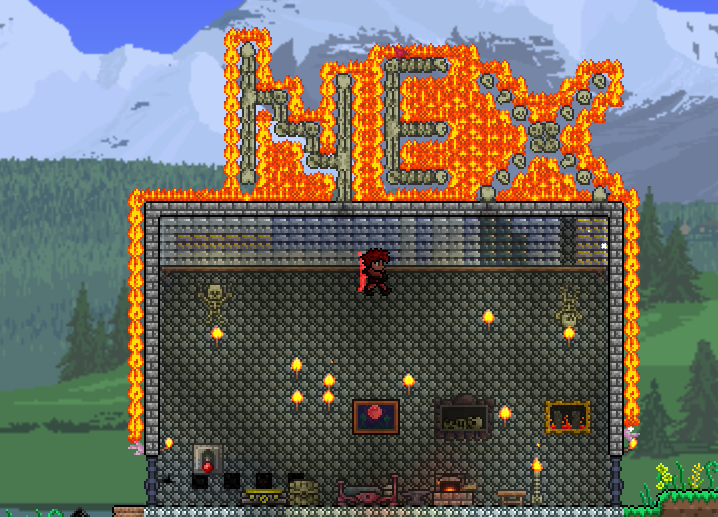 Weekly Special
For this week, we'll be continuing our ongoing series: a complete showcasing of all of Brutallama's sprites! Welcome to the ninth and *final* part. :)
All credit for the sprites go to Brutallama.
This week will be part two of the Thorium mod theme!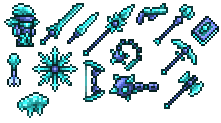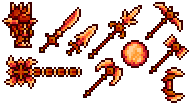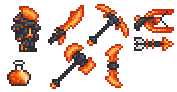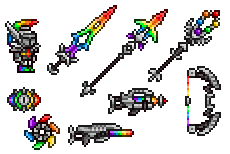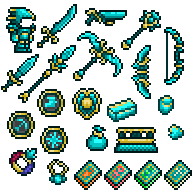 ...And with these sprites showcased, I believe that this series is done! I hope you guys thoroughly enjoyed this fairly long series and are looking forward to whatever next week brings!
Your opinion on this series as a whole?
Story of the Week
This week's story was created by SilverHexxitFights! This will be the prelude to his new series, so enjoy!
Here is this week's story!
Into the Trees - The Prelude
In the distance, they could see the huge mahogany trees rising out of the mists. Shrieks and animalistic howls could be heard, even from this far away. It was the Jungle, at last. After many months of adventuring, the pair had finally made it to the western edge of the world, near the endless ocean. As they set up camp, Dirk drew his sword. "Don't you get the feeling there's something out there watching us?" he asked Elin. "I don't know if we're going to be able to do it..."
What do you rate the prelude to this series?
Announcements and Shoutouts
Announcements
Oscuritaforze has just recently created a bot to use on the wiki! You can find the details regarding it here!
Shoutouts
652Graystripe has just recently suggested a change in regards to the wiki's tutorial system. Be sure to have a look!
Squazzil is now a forum moderator on this wiki! Be sure to send some kind words her way regarding it!
Another thing that is definitely worth a shoutout is this: a completely functioning binary calculator!
Outro
Hey guys, I hope you enjoyed the thirty-ninth issue of The Terrarian Bugle. Remember, if you have any ideas whatsoever just let me know at my talk page and I'll see if I can add it in. If you want your creation in next week's Creation/Pixel art section just hit me up at my talk page or talk to me in the live chat.
Thanks for reading, guys! Let me know what you think in the comments below.
Have a nice weekend and I'll see you next week. :D
Bugle Updates
Credits