Hello Terrarians! Welcome to the fortieth issue of The Terrarian Bugle! This newspaper has been publishing articles for nearly an entire year, now – that's an insanely long time for something like this! With that said, I just want to take a moment to thank all the people who've supported this. Because of this special occasion, I'm going to cram in some extra content for you all to enjoy. :) Thanks again! With that out of the way, we finally have some awesome update info news for mobile players! After that, we'll conduct our normal weekly events, then begin a brand new series; a complete showcasing of SilverHexxitFights' sprites and a small update of Hunited's sprites as a bonus! And finally, we'll continue our latest story, which is written by SilverHexxitFights! Enjoy!
News & Spoilers
Brief synopsis of the following articles:
News
Mobile Easter Update Info - March 23rd
The Easter update for mobile Terraria is now available!
505 Games states:
"Spring has finally sprung (well at least in the half of the globe), and we are here to let everyone know of a few things coming very soon to the Terraria Mobile platform. First, the Easter content will once again be available (or available for the first time for our newer Terrarians ;) ).
In addition to the fun Easter content (Coming in April), what Spring would be complete without a little Spring cleaning? Well, for us that means cleaning out some nasty bugs that have been plaguing our Mobile Terrarians! We hope that these bugfixes will help make everyone's mobile experience far more enjoyable. As always, apologies for the bugs and the time needed to fix them - please keep letting us know about any that you find!"
And here is the changelog:
Fixed crash for android 2.3 users.
Fixed issue where accessories weren't being drawn.
Fixed rendering of jack-o-lantern.
Fixed issue where 'hot using' an item would use it twice instead of once.
NPC moving-in code fixed, Truffle NPC should move in quicker.
Crafting now recognizes when it should use lead or iron bars.
Crafting now recognizes correctly which type of wood it should use.
Fixed crash on suspension while in crafting screen.
Added blue & green wrenches.
Golem now has correct values for health & damage.
Ocram is a bit more difficult to fight.
Lowered mummy spawn chance in pyramid.
Hardmode spawnrate has been made slightly faster.
Holiday bauble has a chance to spawn from a cut down tree.
Fixed the following drill types:

Mythril
Palladium
Orichalcum
Titanium
Chlorophyte​

Fixed issue where sell prices might not update correctly.
Fixed issue where 1.2 items were not reforgeable.
Fixed several multiplayer issues:

Fixed issue where no HUD was displayed as client.
Fixed issue where dyes were not correctly synced​.

Fixed rare crash when returning from suspension.
Fixed crashes related to suspending the game.
Fixed bug where you were able to craft certain items, while you should not be able to.
Fixed various incorrectly working projectiles.
Tweaked snow particles.
Small performance improvements.
Weekly Events
Poll of the week
This week's polls are based on what monsters you like most from the Jungle and Snow Biome. (This not include any bosses or minibosses.)
Which is your favorite Jungle monster?
Which is your favorite Snow monster?
Creation/Pixel art of the Week
This week we have one submission! It is darthmorf's laboratory, complete with all kinds of specimens! Be sure to give him a compliment regarding it next time you see him.
(Note:Be sure to click on the image to view the full, HD version of it.)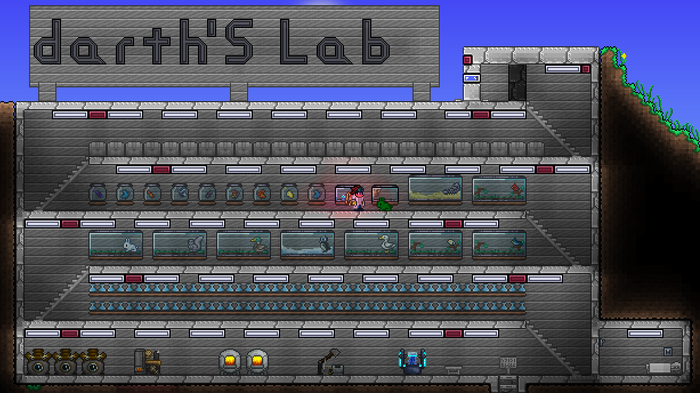 Weekly Special
For this week, we'll be starting a brand new series: a complete showcasing of all of SilverHexxitFight's sprites! Welcome to the first part. :)
Additionally, as a bonus, we'll be going through all of Hunited's sprites in one sitting! This time, we have a more concise formatting for them, in addition to having many new sprites to check out.
All credit for the sprites go to SilverHexxitFights.
Your opinion of the first part of this new series?
All credit for the sprites go to Hunited.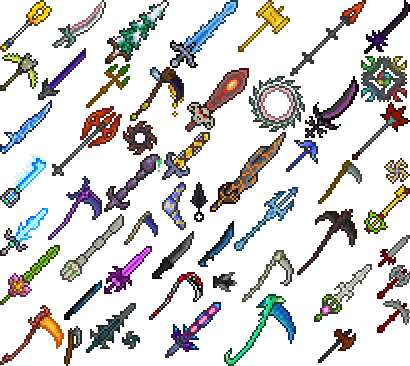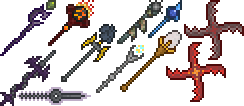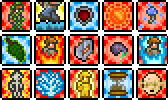 Your opinion on this sprite update from Hunited?
Story of the Week
This week's story was created by SilverHexxitFights! This will be part one of his new series, so enjoy!
Here is this week's story!
Into the Trees - Part One
The mists of the jungle soon closed in on them, visibility decreasing to almost nil. Nothing could be seen in the voids between the trees, but the noises were still everywhere. Shrieks and chirruping marred the air, all coming from creatures unseen - but not unheard.
The two adventurers paused at a huge hole in the ground, opening into a large cave. Watery green light emanated out, its tendrils reaching high into the air like poisonous green vines. The light of the Jungle's riches.
With a nod and a grim look, Elin and Dirk descended, with their packs, into the Underground Jungle.
It was suspiciously quiet for the first mile or two down; little moved besides the plants, and nothing disturbed them. Every so often, a whisper of something would run through the moss-covered walls, shuddering them in a single, wavelike motion. Both Dirk and Elin, subconsciously, had their weapons drawn: they were ready to fight whatever arrived.
But they weren't ready for the hellish meteor that crashed out of the sky and landed beside them, making a dent in the mud and splattering them. A throaty roar emanated from it and a large turtle poked its head out.
What do you rate the first part of this new series?
Announcements and Shoutouts
Announcements
Shoutouts
652Graystripe has just recently suggested a change to the tutorial system that the wiki uses. Be sure to check it out!
Which boss battles have made you most angry in Terraria? Leave you opinion here!
Which Lunar-related event do you like most? Vote now!
Outro
Hey guys, I hope you enjoyed the fortieth issue of The Terrarian Bugle. Remember, if you have any ideas whatsoever just let me know at my talk page and I'll see if I can add it in. If you want your creation in next week's Creation/Pixel art section just hit me up at my talk page or talk to me in the live chat.
Thanks for reading, guys! Let me know what you think in the comments below.
Have a nice weekend and I'll see you next week. :D
Bugle Updates
Credits