Hello Terrarians and happy Easter! Welcome to the forty-first issue of The Terrarian Bugle! We have an amazing 1.3 spoiler video today, so I hope you thoroughly enjoy that! Following that, we'll conduct our normal weekly events, then continue our new series: a complete showcasing of SilverHexxitFights' sprites! And finally, we'll continue our latest story, which is written by SilverHexxitFights! Enjoy!
News & Spoilers
Brief synopsis of the following articles:
1.3 update spoiler video.
Spoiler
PC
Cenx has just recently published a new spoiler video regarding the 1.3 update!
What are your thoughts on this? Leave a comment below!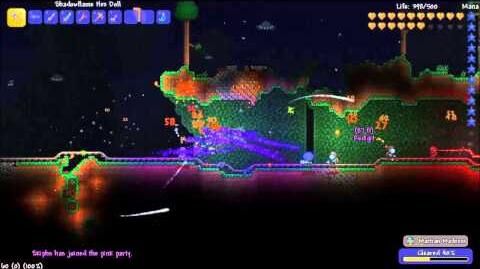 Weekly Events
Poll of the week
This week's poll is based on what monster you like most from the Crimson biome. Enjoy! (This not include any bosses or minibosses.)
Creation/Pixel art of the Week
This week we have one submission! It is Doylee's neon rainbow waterfall! Be sure to shoot some kind words his way next time you see him!
(Note:Be sure to click on the image to view the full, HD version of it.)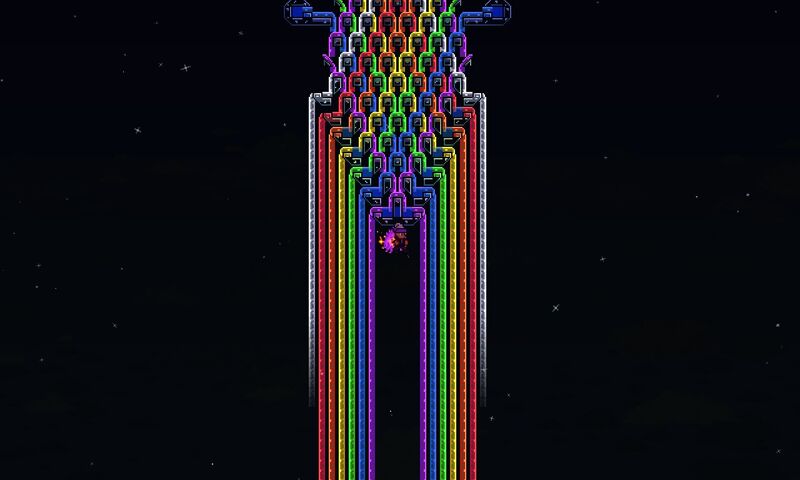 Weekly Special
For this week, we'll be continuing our brand new series: a complete showcasing of all of SilverHexxitFight's sprites! Welcome to the second part. :)
All credit for the sprites go to SilverHexxitFights.
This week's theme is tools and accessories.
Your opinion of the second part of this new series?
Story of the Week
This week's story was created by SilverHexxitFights! This will be part one of his new series, so enjoy!
Here is this week's story!
Into the Trees - Part Two
As the tortoise landed, both adventurers attacked it simultaneously. Elin pulled the trigger on his uzi, sending a hail of bullets against the tortoise's rock-hard shell. They made a curious hollow noise as they hit, much like rain off a tin roof. Careful to avoid the fragments, Dirk went to work with his massive spear - Gungnir, the holy spear of the gods.
Under the hail of blows, the turtle's hard shell cracked as it lay, helpless. One solid spear thrust impaled it.
The two adventurers sat, looking at the mighty beast, when Dirk sat up. He wrenched the now-broken shell off the turtle's back and held it. "Could be useful," he explained shortly. Elin just stared forward blankly, but screamed as the muddy cliff they stood on crumbled and slipped downwards into the abyss.
When they landed, and Dirk held up a torch painfully, both gasped in unison. Around them, the walls glistened with green, green that held the feeling of life in it. "It's the motherlode," Elin gasped.
What do you rate the second part of this new series?
Announcements and Shoutouts
Announcements
Shoutouts
Outro
Hey guys, I hope you enjoyed the forty-first issue of The Terrarian Bugle. Remember, if you have any ideas whatsoever just let me know at my talk page and I'll see if I can add it in. If you want your creation in next week's Creation/Pixel art section just hit me up at my talk page or talk to me in the live chat.
Thanks for reading, guys! Let me know what you think in the comments below.
Have a nice weekend and I'll see you next week. :D
Bugle Updates
Credits