Hello Terrarians! Welcome to the forty-fourth issue of The Terrarian Bugle! Today we have a 1.3 spoiler video, some Terraria: Otherworld news, and some important Mobile news, so be sure to check all that out! Following that, we'll conduct our normal weekly events, then continue our latest series: a complete showcasing of SilverHexxitFights' sprites! We will not be having the story of the week today due to SilverHexxitFights currently being on vacation. I'll keep you all updated on his status and let you know when he returns and is able to continue writing the latest story.
News & Spoilers
Brief synopsis of the following articles:
1.3 update spoiler video.
A brief update on Terraria: Otherworld's progress.
Mobile iOS bug fix tips.
Spoiler
PC
One of the more popular members of the Terraria community, a youtuber named "Chippy Gaming", has brought us a brand new 1.3 spoiler video! Be sure to leave a comment below regarding what extra tidbits you spotted and what you think of this new item!
Terraria: Otherworld
The developers just released a small progress update on Terraria: Otherworld!
They state:
"Terraria: Otherworld update time! Check out a handful of materials we have added as we "Build" towards Otherworld!"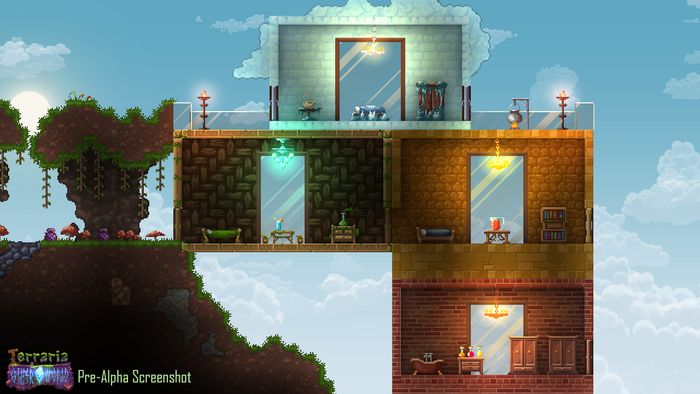 In addition to this, there was also a small, slightly unclear image taken during GDC regarding this. Have a look!
Any thoughts on these images?
News
Let's fix the iOS Easter bugs - April 24th
505 Games is currently collecting information to help them take on some bug fixes for the iOS version of Terraria!
They state:
"Terrarians, thank you for notifying us via the forums, Twitter, Facebook, and email about the issues you have experienced following the release of the iOS Easter update. We are working as fast as possible to reproduce and fix the issues that have led to the reported crashes, as well as characters, worlds, and items becoming inaccessible. If you have experienced these or other issues since downloading iOS version 1.2.7901, please email us immediately at MobileSupport@505Games.com with details of the issue(s) and list your device type and OS version. If possible, please also copy and paste a crash log from your device. To retrieve a crash log, please follow the steps listed below. We understand how frustrating technical issues can be and we apologize. Thank you for your understanding and continued commitment and passion for Terraria."
Please navigate to this thread to view all the details regarding this!
Weekly Events
Poll of the week
This week's poll is based on what monster you like most from the Ocean. Enjoy!
Creation/Pixel art of the Week
This week we have one submission! It is Samrux's floating, glowing mushroom-themed house! Be sure to shoot him a compliment!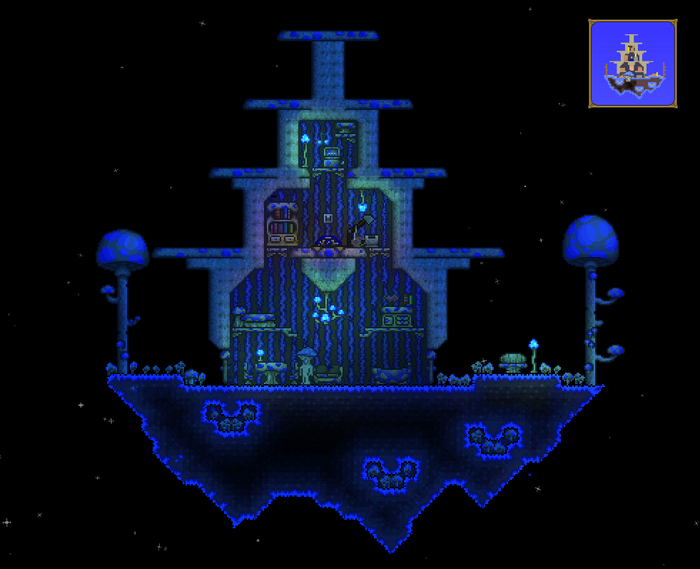 Weekly Special
For this week, we'll be continuing our latest series: a complete showcasing of all of SilverHexxitFights' sprites! Welcome to the fifth part. :)
All credit for the sprites go to SilverHexxitFights.
This week's theme is magic weapons.
Your opinion of the third part of this series?
Announcements and Shoutouts
Announcements
There is a discussion currently ongoing regarding fixes to the category system.
There is also an extremely important discussion regarding the potential reversal of the individual page project. Be sure to have a look!
Shoutouts
Outro
Hey guys, I hope you enjoyed the forty-fourth issue of The Terrarian Bugle. Remember, if you have any ideas whatsoever, just let me know at my talk page and I'll see if I can add it in. If you want your creation in next week's Creation/Pixel art section just hit me up at my talk page or talk to me in the live chat.
Thanks for reading, guys! Let me know what you think in the comments below.
Have a nice weekend and I'll see you next week. :D
Bugle Updates
Credits