Hello Terrarians! Welcome to the forty-fifth issue of The Terrarian Bugle! Today we have some Terraria: Otherworld spoilers to view, so I hope you all enjoy that! Following that, we'll conduct our normal weekly events, then finish up our latest series: a complete showcasing of SilverHexxitFights' sprites!
News & Spoilers
Brief synopsis of the following articles:
Terraria: Otherworld spoilers.
Spoilers
Terraria: Otherworld
The developers just released a couple spoilers for Terraria: Otherworld!
They state:
"It has been a while since we checked in with everyone on Terraria: Otherworld. Well, that ends now! We've been hard at work fleshing out the Building aspects of the game – and we wanted to show off some of what is possible with the materials we have added so far. Of course, we aren't showing everything…but we hope to continue to give you regular updates in the coming weeks as we move ever closer to Otherworld!"
(Note: Be sure to click on the images to view the full, HD version!)
Any thoughts on these images?
Weekly Events
Poll of the week
This week's poll is based on what monster you like most from the Corruption biome. (This poll will not be including the boss monster found in the Corruption.) Enjoy!
Creation/Pixel art of the Week
This week we have one submission! It is AndrewSF1's efficient and excellently designed Ocean farm! Be sure to send him a compliment!
(Note: Be sure to click on the images to view the full, HD version!)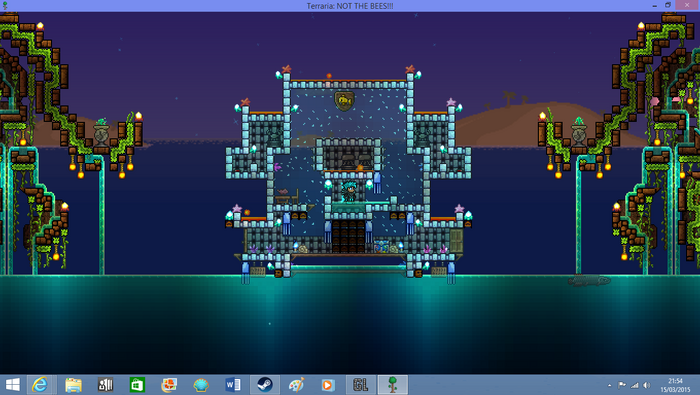 Weekly Special
For this week, we'll be wrapping up our latest series: a complete showcasing of all of SilverHexxitFights' sprites! Welcome to the sixth and *final* part. :)
All credit for the sprites go to SilverHexxitFights.
This week's themes are ranged weapons and armor.
Your opinion on Silver's sprites as a whole?
Announcements and Shoutouts
Announcements
There is a discussion currently ongoing regarding fixes to the category system.
There is also an extremely important discussion regarding the potential reversal of the individual page project. Be sure to have a look!
The offical Terraria Art board is now open! Be sure to read the rules before posting your art!
Shoutouts
What is the most frustrating bug or glitch you've ever come across in Terraria? Comment here!
Outro
Hey guys, I hope you enjoyed the forty-fifth issue of The Terrarian Bugle. Remember, if you have any ideas whatsoever, just let me know at my talk page and I'll see if I can add it in. If you want your creation in next week's Creation/Pixel art section just hit me up at my talk page or talk to me in the live chat.
Thanks for reading, guys! Let me know what you think in the comments below.
Have a nice weekend and I'll see you next week. :D
Bugle Updates
Credits
Ad blocker interference detected!
Wikia is a free-to-use site that makes money from advertising. We have a modified experience for viewers using ad blockers

Wikia is not accessible if you've made further modifications. Remove the custom ad blocker rule(s) and the page will load as expected.