Ad blocker interference detected!
Wikia is a free-to-use site that makes money from advertising. We have a modified experience for viewers using ad blockers

Wikia is not accessible if you've made further modifications. Remove the custom ad blocker rule(s) and the page will load as expected.
Existe uma boa forma de se ganhar bastante coins,ela é a mais famosa e a melhor,chamada de "Corrupt Bunny Farming" ,voce vai precisar de pelo menos uma Estatua de Coelho (quanto mais delas,melhor),Wrench e algumas Preasure Plates.Pode ser na  Lua de sangue ou usando a Vile Powder  para que os coelhos virem o Corrupt Bunny ,faça um local fechado que tenha uma porta para que voce consiga entrar e sair,o local tenha um corredor e um buraco do seu tamanho, e coloque as estatuas de coelhos no inicio,  fique no buraco do corredor, coloque uma Lever no buraco onde voce está, interligando até as estatuas de coellhos com a  Wrench,coloque  Preasure Plates no meio do corredor e interligue todas até as estatuas de coelhos , tampe o buraco (com voce dentro) com pedras ou qualquer outro bloco,e colque lava em cima dele,puxe a alavanca e os coelhos vão direto para a lava,assim o dinheiro vai caindo em voce.Os coelhos vão ficar pisando nas Preasure Plates ,assim não vai parar de sair coelhos (lembre-se que deve estar na Lua de sangue)
não entendeu nada? Veja o video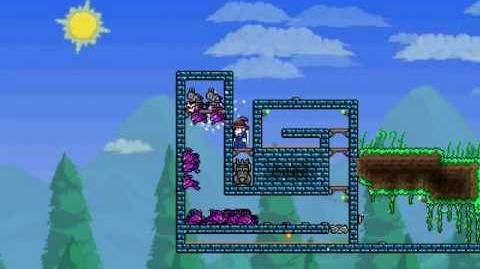 Existe varias maneiras de se fazer isso,como por exemplo deste do video.