v

2188

Venom Staff

   
Information
Type
Weapon
Sub-Type
Spell
Damage?
63

Velocity (?)

14
Inflicts
Venom
Mana Cost
25
Use Time
30 (Average)
Knockback
7 (Strong)
Continuous Attack
Yes
Quality
Tooltip
Shoots a venom fang that pierces multiple enemies
Sell Value
7  
The Venom Staff is a Hard Mode magic weapon. It is very similar in style to the Poison Staff, except Venom Staff shoots four to seven poison fangs in the direction of use, rather than just one to four. 
The Venom Staff inflicts the Venom debuff on enemies.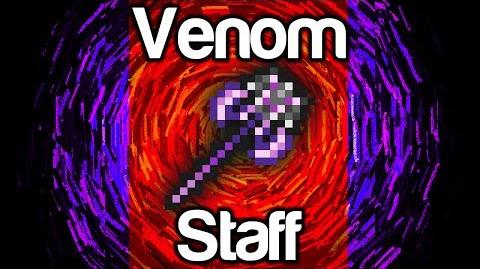 Notes
Update Info
Ad blocker interference detected!
Wikia is a free-to-use site that makes money from advertising. We have a modified experience for viewers using ad blockers

Wikia is not accessible if you've made further modifications. Remove the custom ad blocker rule(s) and the page will load as expected.