This item is found only in the console version(s) of Terraria.
The Vial of Blood is an item used to summon a Pet Bat. Vials of Blood are found in chests scattered around the world and in the dungeon. Like other Pet-spawning items, they have an infinite amount of uses. Using the Vial of Blood with the Pet Bat active will despawn it.
Like the Pet Zombie, the Pet Bat fights enemies alongside you. This is unlike two other pets, the Guinea Pig and the Pet Slime. You can also get this item on the latest update on mobile edition.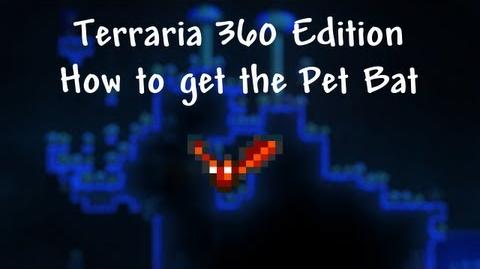 Trivia
The Pet Bat is a reskin of the Jungle Bat.
The Vial of Blood is most common in dungeons as there are more chests and the dungeon is smaller.
Update Info
Ad blocker interference detected!
Wikia is a free-to-use site that makes money from advertising. We have a modified experience for viewers using ad blockers

Wikia is not accessible if you've made further modifications. Remove the custom ad blocker rule(s) and the page will load as expected.