v

66

Voodoo Demon

Stats
Type
Monster
HP
140
Attack
Magic: 21
Melee: 32
Defense
8
Variety
Demon
Spawn Time
(Anytime)
Spawn Area
Underworld
Immune To
On Fire!, Cursed Inferno
Drops
10  

?

100%
Guide Voodoo Doll
100%
Demon Scythe
2.86%
The Voodoo Demon is a monster that spawns in The Underworld. It either attacks by melee, or by ranged, casting 4 Demon Scythe projectiles. The Voodoo Demon carries a Guide Voodoo Doll with it, which drops when the Voodoo Demon is killed. Caution is advised when fighting the Voodoo Demon, as the Wall of Flesh spawns when the Guide Voodoo Doll is dropped in lava in the underworld.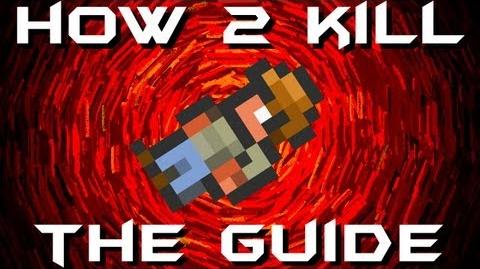 Notes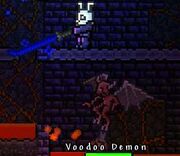 Due to the risk of summoning the strongest pre-hardmode boss if it is killed over lava, the Voodoo Demon could be considered the most dangerous pre-hardmode monster.
The Voodoo Demon's hitbox includes the doll below.
Update Info
Damage decreased from 50 to 32.
HP increased from 120 to 140.
Spawn rate increased.