v

 

Vortex Armor


Male  /  Female
Information
Type
Armor
Sub-Type
Armor Set
Body Slot
Helmet/Shirt/Pants Slots (Full Set)
Set Bonus
Double tap "DOWN" to become invisible, and deal greatly increased damage, but move slower.
Defense
62
Quality
Sell Value
No Value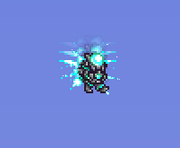 Parts of the Set
14 defense
16% increased ranged damage
7% increased critical strike chance
28 defense
12% increased ranged damage and critical strike chance
25% chance not to consume ammo
20 defense
8% increased ranged damage and critical strike chance
10% increased movement speed
Notes
"Stealth mode" reduces movement speed drastically while upgrading the damage bonus to 85%. Enemies are also less likely to target the player.
Asphalt, accessories like Spectre Boots, and Wings can be used to counter the loss in speed somewhat, but Mounts and Minecarts will end Stealth Mode.
This set can reach very high critical hit percent chance values. While Critical Chance does not stack in a directly additive fashion, it is easily possible to get 85-95% critical strike chance using ranged weapons with proper ammunition. An S.D.M.G. or Vortex Beater using Venom or Crystal Bullets when paired with this armor, Destroyer Emblem, and Sniper Scope can easily defeat Pumpking, Ice Queen etc. in seconds, and a cloaked player using Sniper Rifle and the same equipment can 1-Shot kill a fully armored player roughly 90% of the time.
Update Info
Ad blocker interference detected!
Wikia is a free-to-use site that makes money from advertising. We have a modified experience for viewers using ad blockers

Wikia is not accessible if you've made further modifications. Remove the custom ad blocker rule(s) and the page will load as expected.