The
Vortex Armor
set is a hardmode, ranged based armor set from the Lunar Event. Each piece of the set provides bonuses to range, equal to 36% increased ranged damage, and critical strike chance. Its bonus allows activation of an upgraded version of the
Shroomite Armor
"Stealth Mode". It is also one of the four endgame 
Luminite
sets, along with the 
Nebula Armor
, 
Solar Flare Armor
, and 
Stardust Armor
.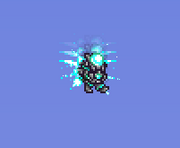 Parts of the Set
14 defense
16% increased ranged damage
7% increased critical strike chance
28 defense
12% increased ranged damage and critical strike chance
25% chance not to consume ammo
20 defense
8% increased ranged damage and critical strike chance
10% increased movement speed
Notes
"Stealth mode" reduces movement speed drastically while upgrading the damage bonus to 85%. Enemies are also less likely to target the player.
Asphalt, accessories like Spectre Boots, and Wings can be used to counter the loss in speed somewhat, but Mounts and Minecarts will end Stealth Mode.
This set can reach very high critical hit percent chance values. While Critical Chance does not stack in a directly additive fashion, it is easily possible to get 85-95% critical strike chance using ranged weapons with proper ammunition. An S.D.M.G. or Vortex Beater using Venom or Crystal Bullets when paired with this armor, Destroyer Emblem, and Sniper Scope can easily defeat Pumpking, Ice Queen etc. in seconds, and a cloaked player using Sniper Rifle and the same equipment can 1-Shot kill a fully armored player roughly 90% of the time.
If the player uses the shadow dye, the stealth mode will make the player invisible.
Update Info