v

Wandering Eye

133
   
Stats
Type
Monster
­
HP
300
Rarity
Common
Attack
40
Defense
20
Spawn Time
(Night)

(Hardmode)

Drops
5  

?

100%
The
Wandering Eye
is an enemy found in Hard Mode (after killing
Wall of Flesh
). It shares the same AI as the
Demon Eyes
and the
Servants of Cthulhu
spawned by the
Eye of Cthulhu
, that being the arc-type attack style.
They have 300 HP, 20 defense and deal 40 damage to a defenseless player. They seem to spawn outside the dungeons more often than not, but will spawn everywhere. They appear to be an enhanced Demon Eye. When coming into contact with any solid object, they will ricochet, following the player until they are hit or killed.
When they reach half their health (150HP), they partially split in half, making way for a mouth, rather than a regular eye, much like the Eye of Cthulhu. After this, they also move much faster.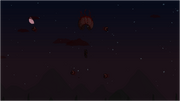 .