v

228

Witch Doctor

Information
Type
NPC
Sub Type
Town
HP
250
Defense
15
The Witch Doctor is an NPC that spawns after defeating the Queen Bee and there is a house available for him.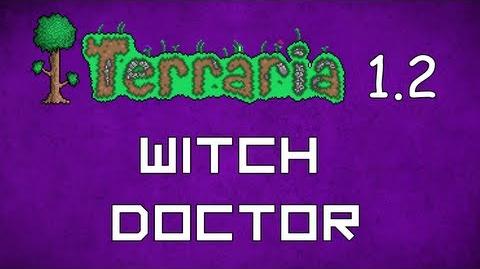 Sells
Witch Doctor's Quotes
"Which doctor am I? The Witch Doctor am I."
"Choose wisely, (CharacterName), my commodities are volatile and my dark arts, mysterious."
"(NursesName) may heal your body, but I can make you embody healing."
"The heart of magic is nature. The nature of hearts is magic."
Witch Doctor's Names
Abibe
Gboto
Jamundi
Kogi-ghi
Konah
Opuni
Tairona
U'wa
Xirigua
Zop'a
Bugs
Many of his items do not appear in his/her shop on multiplayer, but they will on singleplayer. A good example of this is the Tiki Armor.[citation needed]
Trivia
If you look closely, the Witch Doctor appears to be a Lihzahrd considering he has a tail,greenish skin, and a head frill.
Update Info
Now sells a Cauldron when it is Halloween.