v

Wizard

108
Information
Type
NPC
HP
250
Defense
15
Function
Sells Mana related items
The Wizard is an NPC that sells mana related items. Once the Wall of Flesh has been defeated, the wizard can be found tied up anywhere underground or sometimes in the dungeon. The wizard might have been tied up and thrown in the dungeon by the Old Man, as the Mechanic has also. He will move into a suitable house soon after being unbound. Using the Hunter Potion will highlight the wizard. He does not sell spells ready made for you, he sells materials to be made into spells. The Ice Rod the wizard sells is the only ready made item that isn't a crafting material. The Ice Rod casts ice blocks when used. At night, he uses the words "No? Ok." a lot at the end of his speech. All of the things he sells can only be bought from him and can't be found anywhere else.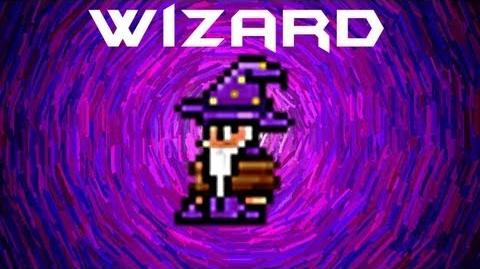 Wizard's Quotes
Day
"Well, hi there, <name of same-gender NPC to the player>! What can I do for you today?"
"Are you here for a peek at my crystal ball?"
"Ever wanted an enchanted ring that turns rocks into slimes? Well neither did I." (reference to the first mod in Terraria where you could get a ring which turns blocks into monsters)
"Someone once told me friendship is magic. That's ridiculous. You can't turn people into frogs with friendship." (reference to the TV-show "My Little Pony: Friendship is Magic")
"I can see your future now... You will buy a lot of items from me!"
"I once tried to bring an Angel Statue to life. It didn't do anything." (possible reference to the weeping angels of Dr. Who, or how the angel statues never do anything.)
Night
"I make a rather enchanting hot chocolate if you'd be inter...No? Ok."
"Want me to pull a coin from behind your ear? No? Ok."
"Do you want some magic candy? No? Ok."
Upon Unbinding
"Thanks for saving me, friend! This bondage was starting to chafe."
"Ohh, my hero!"
"Oh, how heroic! Thank you for saving me, young lady!"
"Oh, how heroic! Thank you for saving me, young man!"
"Now that we know each other, I can move in with you, right?"
Wizard's Names
Alasdair
Arddun
Arwyn (Lord of The Rings reference)
Berwyn
Dalamar
Dulais
Elric
Fizban (Dragonlance: The Chronicles Trilogy reference)
Gearroid
Greum
Gwentor
Hirael
Leomund
Maelor
Magius
Merlyn
Ningauble
Sargon
Seonag
Tagar
Xanadu
The Wizard quotes from some popular magic tricks.
The Wizard seems to have trouble telling apart the NPCs, giving him the same aloof nature as Merlin tends to be described as having.
The Wizard can respawn if he is killed.
The Wizard's hat is not the same as the Wizard Hat vanity item.
The Wizard's names are common references to deities or well-known characters from legends (Such as the Legend of Arthur).
One of The Wizard's names, Fizban, is possibly a reference to the character of the same name from the Dragonlance books, by Margaret Weiss and Tracy Hickman.
Many Items you can buy from him play music (harp, bell, crystal ball, music box)
Update Info
Edit
Can now be unbound while playing with autopause on (bug fix)