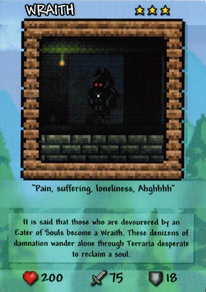 Quote
"Pain, suffering, loneliness, Ahghhhh"
Description
It is said that those who are devoured by an Eater of Souls become a Wraith. These denizens of demnation wander alone through Terraria desperate to reclaim a soul.
Stats
Rarity: ☆☆☆
Hitpoints: 200
Attack: 75
Defense: 18
Other cards
There are nine known cards that are available through buying the Terraria Collector's Edition game.