v

3581

Yoraiz0r's Scowl

Information
Type
Vanity Item
Sub-Type
Piece
Body Slot
Accessory Slot
Set Name
Yoraiz0r's Outfit
Quality
Tooltip
'Great for impersonating devs!'
Found In
Treasure Bags
Drop Rate
5% (1:20)
Sell Value
No Value

Crafting
This item cannot be crafted.
Yoraiz0r's Scowl is a vanity item found rarely in treasure bags. It makes your character's face turns dark.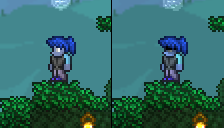 Notes
In the game source code, the deprecated Name parameter states "Dark..." for this item, instead of "Yoraiz0r's Scowl".
Does not grant any noticeable visual effect.
Update Info
Ad blocker interference detected!
Wikia is a free-to-use site that makes money from advertising. We have a modified experience for viewers using ad blockers

Wikia is not accessible if you've made further modifications. Remove the custom ad blocker rule(s) and the page will load as expected.